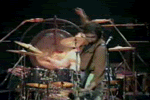 Gibson.com recently
wrote
about Pete Townshend's greatest solo albums, while naming the type of Gibson guitar Pete used on each one. For me,
White City: A Novel
is probably my favorite - that is if you are excluding
The Scoop
albums. "Give Blood," "Face the Face" and "Secondhand Love" received the most play on popular radio, however, my favorites off of the album are "Brilliant Blues," "Night School" and "White City Fighting." The album features David Gilmour playing guitar on many of the tracks, Mark Brzezicki (drums), John Bundrick (keyboards), and bass players Pino Palladino, the venerable Chucho Merchan and Phil Chen.
I saw Chen play with Ray Manzarek and Robby Krieger over the summer. He's really good and he's really loud. In many ways I prefer Chen over Palladino, but Pete and Roger wanted to go with a quieter bass player after John Entwistle died, so I get why they chose Pino.